TRUCK ACCIDENTS ATTORNEYS IN TULSA, OKLAHOMA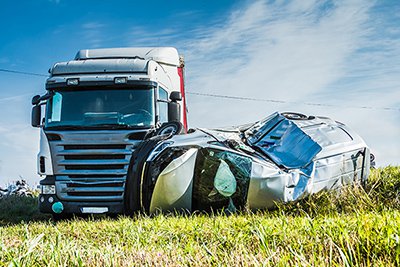 Protecting the rights of truck accident victims is what we do at The Rode Law Firm. We represent personal injury victims of trucking and big rig accidents. We are dedicated personal injury lawyers who aggressively prosecute our clients' injury claims against the negligent driver, his/her employer, and the insurance companies.
Sadly, some trucking companies and drivers place monetary interests before safety of the motoring public and do not obey the law.
Truck accidents occur every day due to negligence and irresponsibility through driving excessive hours, negligent maintenance of equipment, and a host of other reasons that place the motoring public at great risk. All accidents are preventable if the driver follows the safety rules.
TRUCK ACCIDENT INJURIES
Injuries from truck accidents can be severe and long-term. Some common truck accident injuries include:
Disc Herniation

Bulges

Protrusions

Tears

Numbness and Pain in Arms, Hands, Legs and Feet

Nerve Root Compression

Spinal Cord Impingement

Back Injuries

Broken Bones

Head Trauma

Lacerations

Spinal Cord Injury

Traumatic Brain Injury

Concussion

Closed Head Injury

Knee Injuries

Foot and Ankle Injuries
These injuries can be life changing typically requiring surgical intervention and long term rehabilitation with the loss of income during recovery and ultimately, some form of permanency.
COMPENSATION FOR BIG RIG ACCIDENTS
You deserve full compensation for injuries, harms, and losses you have suffered from an accident involving a commercial truck, semi-truck, 18-wheeler, or tractor-trailer. These damages include physical pain and suffering, mental anguish, medical expenses, property damage, loss of income, loss of enjoyment of life, and other out-of-pocket expenses.
As soon as you are able, you should consult the attorneys at The Rode Law Firm. We understand the importance of strategic presentation of a case involving commercial trucks, semi-trucks, 18-wheelers, and tractor-trailers. We offer a free consultation to discuss your case. The Rode Law Firm stands apart with over 30 years experience handling complex cases involving big rigs.
CALL THE RODE LAW FIRM AND GET ON YOUR ROAD TO RECOVERY. CALL US TODAY FOR A FREE CONSULTATION WITH AN ATTORNEY.
Often it is the truck driver or the truck itself that is the cause of a trucking accident. Drivers may be fatigued, poorly trained, distracted, or driving drunk / drugged. There are a variety of unsafe moves truck drivers make to cause accidents. The truck may be improperly maintained or incorrectly loaded or have faulty parts from the manufacturer. Additionally, a trucking company is responsible for the actions of its drivers and the reliability of its trucks.
---
Because of the size and weight of tractor trailers (up to 80,000 pounds), the injuries they cause in a wreck with a car (avg. weight 4,000 pounds) are likely to be catastrophic and require months or years of physical and financial recovery. A truck accident injury may cause permanent disability or death. Unfortunately, the latest statistics show that the number of injuries in truck accidents is on the rise.
---
A person in a car or passenger truck, on a motorcycle or walking as a pedestrian is at a terrible disadvantage in a collision with a tractor trailer. The National Highway Traffic Safety Administration (NHTSA) says that in 2018 there was a 3% increase in truck related fatalities while there was a decrease in other vehicle related fatalities. In Oklahoma over the last decade, there has been an average of 100 fatal truck accidents each year, according to the Truck Safety Coalition.
---
Federal regulations dictate how much time a truck driver can legally spend behind the wheel during a work shift. Even so, driver fatigue is the cause of tens of thousands of injuries and hundreds of deaths in truck accidents each year. Sometimes drivers don't realize they are fatigued — and sometimes they push themselves when they know they shouldn't.
---
Oklahoma personal injury law gives truck crash victims strict time limits from the date of their injury to file a claim for compensation. It is important to act quickly on your claim because evidence and memories can diminish over time. The Rode Law Firm has helped many truck accident victims recover both physically and financially as they put their lives back together.
---
Long-distance trucking is a crucial part of American life. Commercial trucks distribute 80 percent of the country's consumer products. But trucks are involved in more than 500,000 accidents each year and tens of thousands of injuries and deaths.
---
Review some of the regulations that govern the trucking industry in Oklahoma and some of the firms involved in trucking across the Sooner State.
---
Review some of the regulations that govern the trucking industry in America.
---
The truck accident attorneys of the Rode Law Firm have been assisting injured Oklahomans and their families for more than 30 years. If you've been hurt in an accident involving a tractor trailer, we can help you, too.